We check out from this BTC Fashion Hotel around 7.30. Agak membosankan menu pagi kat cafe ni...
Porridge and ada jugak bread toast dan buah.
Itu aja. As I said in my last entry....takde pilihan untuk sarapan. Makan je apa yang ada.
Lepas check out terus je ke Pasar Baru yang jaraknya cuma 15 minit dari hotel. Kul 8pagi dah sampai Pasar Baru. Time ni masih kurang lagi manusia kat situ.
Aku tak naik semua floor. Pegi ke tempat jual baju budak2 ni, tempat jual batik ngan telekung je.
Rimaslah bila ramai sangat manusia. Pastu hati pulak agak tak tenang sebab Mr. Kay malas nak jalan sebab kaki dia still sakit. Dia duduk kat luar dengan anak-anak. Jadi aku shopping lelaju...terus gi kat dorang pastu tunggu yang lenlain. Bila semua dah ada...busnya pulak yang nggak ada. Macet katanya.
Teruslah kita ke Jakarta lepas habis acara menghabiskan duit kat sini.
On the way tu singgah lunch sekejap kat SolaRia Bandung. Ni macam kawasan R&R tapi cun gila nak mampus. Damai dan dingin je.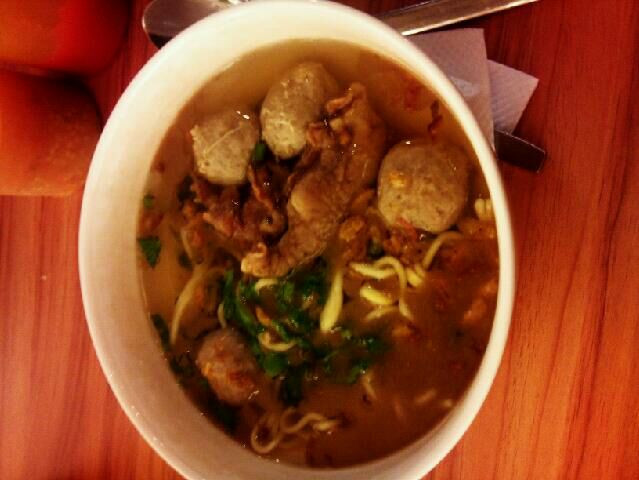 Merasa gak makan bakso kat sini. Manjang makan nasi padang je...naik muak rasanya.
Lepas lunch sambung lagi perjalanan ke Jakarta. Sampai Jakarta kita singgah di Cempaka Mas ITC Mall. Kepadatan manusia mmg tak dapat dinafikan... jadi aku gi 2-3 kedai dan seterusnya duduklah sambil minum-minum di A&W. Senang kepala otak..senang jugak kaki ni.
Besar gaklah shopping mall ni...
Beli jugak kitchen set yang camni untuk kyra...pastu marilah melepak di A&W. Si bujang kecik punyalah sedap tido dari atas bus membawa ke dalam mall...naik semula atas bus. Gila punya nyenyak. Penat sangat kot.
Malam dia bawak lagi sekali makan kat restoran padang. Waduh waduh udah tak sedap kat tekak ni nak makan makanan padang.
Makan cecepat sebab rasa cam dah penat sangat dah. Check in kat hotel Gren Alia Cikili, Jakarta for the last nite in Indonesia. Hotel ni cam selesa sikit. Hotel dah lama agaknya...so dia punya staf pun dah mahir gitu. Cam hotel yang kat Bandung tu..mmglah hotel baru, cantik tp staf dia maca slow skit..manjang "saya periksa dulu pak, saya kurang pasti pak".